SHIPPING
All jewelry is shipped by international signature-required courier and will be tracked in real time  until delivery has been completed.
Most of my creations like rings are hand made after receiving your order so please sometimes wait up to 18 days before your order is processed and shipped.
Orders over 500 € Ship for Free, worldwide.
Orders under 500 € will incur shipping costs dependent on delivery location, please refer to the following chart.
ITALIA
Express shipping for Free
EUROPE and UK
Express shipping for Free
USA and CANADA
Under 500€       Express            30€
AUSTRALIA
Under 500€      Express            30€
REST OF THE WORLD                                                           
Under 500€       Express            35€
LIFETIME WARRANTY
We are committed to ensuring the quality of your purchase; we stand behind everything that we sell and warrant that all items will be free from any manufacturing defects at the time of delivery. We will repair and maintain your jewelry for a lifetime.
All of our jewelry is manufactured using the highest quality materials and is inspected prior to shipment. Our lifetime warranty offers free re-polishing, gold plating and cleaning services.
RETURNS
In the event that a product you have ordered is faulty or in any other way does not match your order specifications contact us immediately to arrange the return of your order within 14 days.
Goods should be returned new unworn or unused in their original packaging where relevant. Will only cover shipping cost incurred in returning the product if the return is a result of our error.
Returns are not accepted due to customer error or change of mind, but in some cases a product exchange can be offered .
This policy does not affect your statutory rights.
RING SIZE GUIDE
You are strongly encouraged to check your ring size carefully before placing your order.
We recommend that you get your fingers professionally sized by an experienced assistant at a reputable jewellery store if you don't know your size.
For most rings, it is possible to upsize the ring size slightly for free in the future (for sure one size, maybe two), while scaling down the ring size is not always possible.
Our ring sizes in shop correspond with the Italian ring sizes:
XXS = 9 (ITA) = 49 (FRA) = 5 (US)
XS = 12 (ITA) = 52 (FRA) = 6.5 (US)
S = 14 (ITA) = 54 (FRA) = 7 (US)
S/M = 17 (ITA) = 57 (FRA) = 8 (US)
M = 20 (ITA) = 60 (FRA) = 9 (US)
M/L = 22 (ITA) = 62 (FRA) = 10 (US)
L = 25 (ITA) = 65 (FRA) = 11 (US)
XL = 28 (ITA) = 68 (FRA) = 12.5 (US)
In case you need further help or a special size please feel free to contact us or choose in shop the closest size and specify the correct one in the notes when ordering.
BRACELETS GUIDE SIZES
Depending on the design, each bangle or bracelet will fit tighter or more loose, so the measurements below should guarantee a perfect fit.
For bracelets generally, the size depends in the wrist measurements.
XS – is for a wrist between 5.3-5.9 inch/ 13,5-15cm.
S – is for a wrist between 6.1-6.5 inch/ 15,5-16,5cm.
M – is for a wrist between 6.9-7.3 inch/ 17,5-18,5cm.
L – is for a wrist between 7.5-8.0 inch/ 19-20,5cm
XL – is for wrist up to 8.4 inch/ 21,5 cm
Please measure your wrist tightly as indicated in the picture.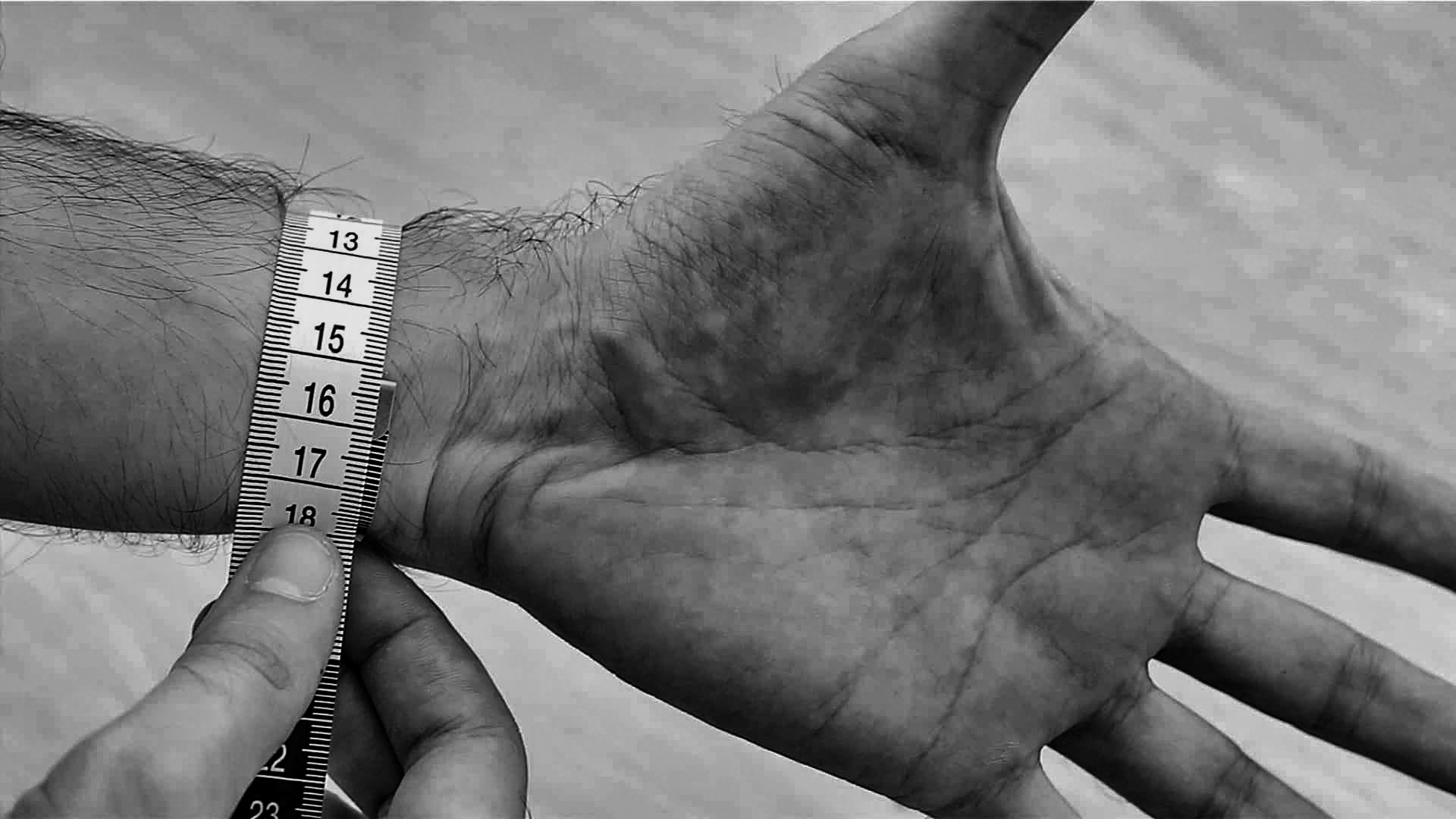 If you don't have a tailor's measuring tape at hand, please use a strip of paper or a ribbon instead, mark the wrist circumference on it and measure afterwards lying flat.